The three primary objectives of early childhood education and care (ECEC) are:
Advancing children's learning and development
Enabling families to manage parenting and work
Reducing the impact of disadvantage on children's life chances.
The foundations of a quality early childhood system are known, supported by evidence and broadly agreed upon. While there is a strong understanding of what policies, resources and infrastructure are optimum for a high-performing early childhood system, the question of how to design and deliver them, within Australia's unique context, remains a work in progress.
Components of an effective ECEC system
The Front Project has reviewed a broad range of national and international evidence to identify the eight following components as being vital for enabling a high-quality, high-impact early learning system: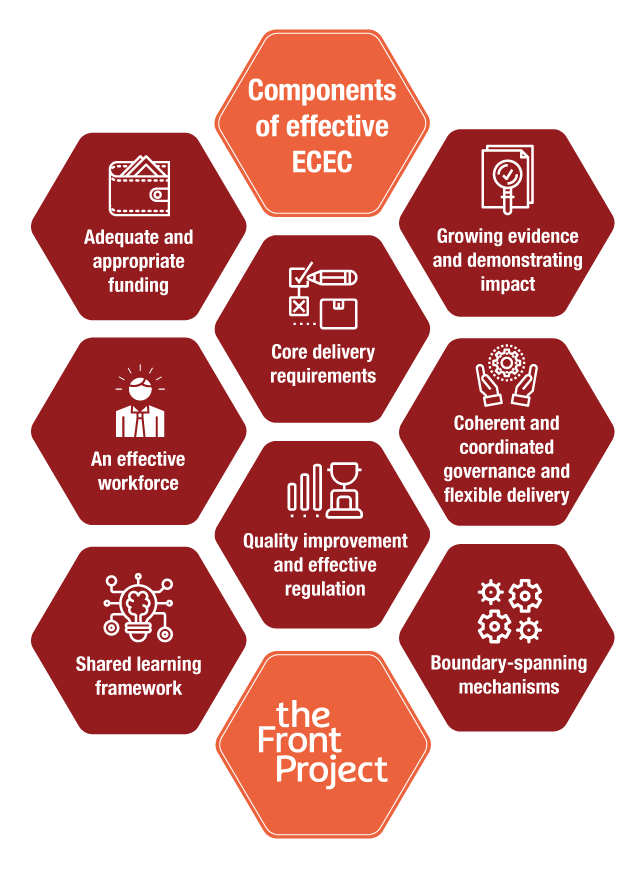 Adequate and appropriate funding – funding that provides appropriate resources to provide all children with access to quality early learning.
An effective workforce – a skilled, professional workforce, supported by appropriate pay and conditions, professional learning, and strong leadership.
Shared learning framework – a national practice framework or curriculum that articulates, supports and enables quality teaching.
Core delivery requirements – consistent and evidence-based requirements around ratios, group size, qualifications, dose and space.
Quality improvement and effective regulation – a regulatory approach that drives quality and creates accountability for ongoing quality improvement.
Growing evidence and demonstrating impact – investment in evidence to demonstrate impact and inform practice and policy.
Coherent and coordinated governance and flexible delivery – clear responsibilities, active system stewardship, aligned policy goals and delivery that provides choice and flexibility to meet child, family, and community needs.
Boundary-spanning mechanisms – intentionally connecting with the various systems outside of early childhood education that support children and families to flourish.
These eight components capture the core policy and system scaffolds that create the conditions for quality practice on the ground and enable an ECEC system that meets the needs of children and families.
Australia's ECEC system is strong in many of these components but can develop some areas further to improve outcomes.
The case for high-quality early learning for all children
We now know all too well that the first few years of life are critical for developing the social, emotional, cognitive and physical skills that will lay the foundations for life. However, we also know that not all children get the best start in life. This evidence report makes the case for ensuring that high-quality early learning is available to all children.