What will Australia's early childhood education system look like after COVID-19?
The critical role of early childhood education in supporting young children's learning and development and supporting families to work has never been more evident than during the response to COVID-19.
This social and economic crisis has exacerbated known problems in the structure and operation of the early childhood education system. The strengths and limitations of the system we are used to are now in full view, as are the important roles of dedicated teachers, educators and staff at all levels of services who are working hard to continue children's learning and support their wellbeing.
Even before this crisis, it was well-stablished that Australia does not yet provide equitable access to high quality early childhood education for all children. The quality, equity, accessibility and impact of early childhood education has been constrained by systemic issues, which are underpinned by a mental model of early childhood education being solely about 'care' and not the education of our youngest learners – something The Front Project is working to change.
However, right now, our Government has a fresh appreciation of how much Australia's economy depends on a viable early childhood education and care sector. They have set aside established funding models to quickly stabilise a flow of funding into the sector, so parents and carers can continue essential work during this period of significant importance.
In my last communication I discussed how this period of time presents an opportunity to develop new policy, funding and ways of valuing the contribution of the early childhood education and care sector. In the few weeks since, we have been working on ways to not only continue to support the sector during the COVID-19 period, but ensure it is stronger once this pandemic is over.
We are pivoting our focus during this period to see if we can achieve better experiences for children once families return to work and routine. I am committing expertise from The Front Project to this work and hope many of you will be able to join us by contributing your invaluable experience and insights. I am delighted to share that we already have commitment from sector leaders in The Apiary Fellowship to lead a forecast for children and families that will explore possible futures to consider for Australia. The Apiary Fellows have also expressed a commitment to work directly with children, parents and carers, and early childhood teachers and educators to ensure their perspectives inform our work.
All of this leads us to asking for your input. Over the coming months, we hope to work with many of you to:
Clarify the stress points of our system and the policy and funding settings that get in the way of equitable access to high quality early learning
Produce scenario modelling that tells us what changes in the structure and operation of the system are possible or likely in the short-to-medium term as the impacts of COVID-19 are felt and understood
Identify the key changes possible and necessary right now to improve quality and equity
Provide a clear direction forward.
How can early learning deliver the most benefits to children and Australia?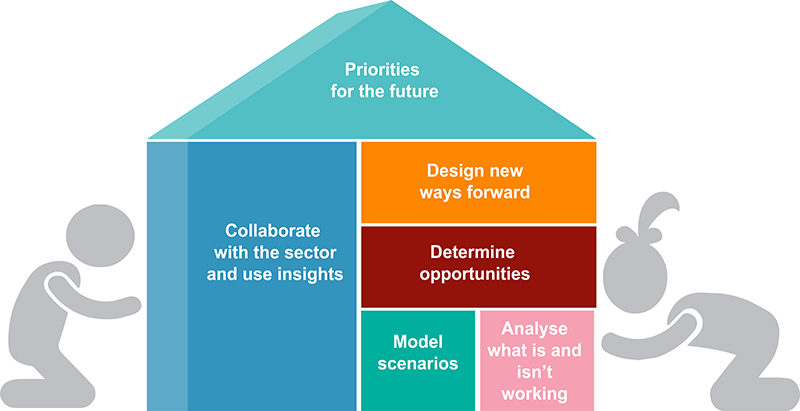 By embarking on this work, we aim to clarify what conditions and practices are necessary to deliver a sustainable, high-quality and high-impact early childhood education system, and what investment is necessary to reap its double dividend. Prioritising the experiences and opportunities that should be available to all Australian children will inform all activity – while we will continue to show how a strong early childhood education system benefits all sections of society, the needs of children will remain at the centre of our work.
Join in Our Work
We know that system issues can only be improved if we understand the multiple experiences and thoughts of those who encounter, work in and work on the early learning system. If you are interested in being part of this work please email info@thefrontproject.org.au and tell us how you wish to collaborate.
We have challenging work ahead. However, amidst current adversity, I am energised by the opportunity to secure a better system for young children, their families and their communities. I look forward to working with you to achieve this.
Kindest Regards,
Jane Hunt