As more people learn about the value of Australia's early childhood education and care (ECEC) system it is important to understand how it operates.
The Australian early childhood education sector is diverse, complex and vibrant, with services delivered in different ways across the country. The differences in the system mean that people involved in early childhood education (children, families, teachers and educators, providers, and governments) can have very different experiences, perspectives and ways of operating.
These differences are why we utilise a Systems Change approach in our work at the Front Project. We recognise that the ECEC system does not exist within a silo of its own system, but it exists within a complex web of adjacent systems and structures, with many people involved.
Key system characteristics
There are four key characteristics to be aware of when it comes to understanding how the early childhood education system operates in Australia:
Early childhood education is critical for three key policy objectives – work, education and equity. The challenge for governments is balancing policy and funding settings to achieve these objectives.
As a federation, all levels of government in Australia are involved in early childhood education, making reform politically and practically complex.
The Australian early childhood sector is extremely diverse, reflecting the different needs of children and families. This diversity means there is no 'one-size-fits-all' policy solution to deliver its work, education and equity objectives
Early childhood education is delivered through a mixed market model which includes for-profit, not-for-profit, community-based and government providers. While this model has a number of benefits and provides families with variety and choice, it needs appropriate stewardship to be effective and deliver adequately on the outcomes sought.
The early childhood education and care (ECEC) sector is made up of many different types of delivery settings. In order to work within this system, it is important to understand its complexities and acknowledge the many diverse settings where early learning takes place.
The three primary delivery settings are:
Centre-based long day care: More than two-thirds of services in Australia are centre-based day care. These services deliver preschool as well as educational activities and care for children aged 0–5 for full days at an average of 30 hours per week.
Sessional preschool: Just over a quarter of services in Australia are sessional preschools. These services deliver preschool to children aged 3–5 and attendance is part-time.
Home-based care: A small proportion of services in Australia are home-based, including family day care (small groups in the educator's home) and care in the home of the child. These services deliver educational activities and care to children aged 0–5 and are mostly full days.
The following infographic provides further statistical information about the three primary early learning delivery settings in Australia.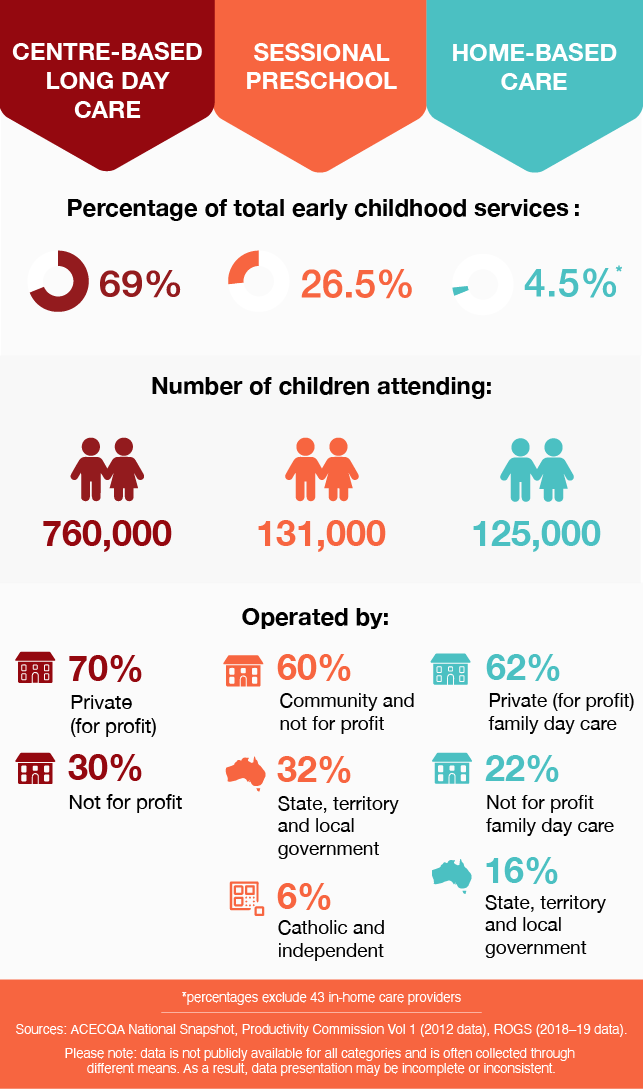 Government policies and funding help determine the environment for a high performing ECEC system. Policy and funding decisions impact how early childhood providers and workers operate, and how they are equipped to deliver on the key objectives of ECEC.
To achieve the multiple objectives of ECEC, early learning professionals require a supportive environment. Policy and funding settings influence this environment in two ways:
Directly and explicitly (for example, determining whether adequate resources are available; setting and regulating the minimum operating standards; or establishing benchmarks).
Indirectly and implicitly (for example, defining a vision for the sector; establishing a shared culture or language; or setting incentives and reporting on progress).
An optimised early learning system must align and integrate these direct and indirect influences.