In Australia, one in five children currently starts school vulnerable in several areas of development.
These developmentally vulnerable children are placed at a disadvantage compared to their peers, a disadvantage that can follow them throughout their lives.
Children who experience disadvantage are being held back by our current system. These children often do not receive the learning, development and financial security opportunities they need to succeed. The good news is that this disadvantage can be reduced by improving access to early childhood education.
The importance of early childhood education
With the right conditions, early childhood education and care (ECEC) can set children up for life. It helps them build vital social and emotional skills and supports brain development during a time of rapid growth.
Early education also has a range of additional advantages for families and wider society. These include freeing up parents to work and earn an income, helping communities to flourish through new connections, and strengthening opportunities for ongoing participation in education and work.
Changing the system
At the Front Project, we work across and within Australia's ECEC system through a powerful combination of direct support for early learning professionals, system-wide collaboration, research and advocacy to encourage change in the ECEC system. Through these actions we aim to reduce disadvantage by:
improving the quality of the care and education that children experience in every location or setting
making sure all children have access to quality ECEC that meets their needs
ensuring ECEC is affordable for every family
enabling families to improve their financial stability.
Find out more about how the Front Project changes the ECEC system to address disadvantage.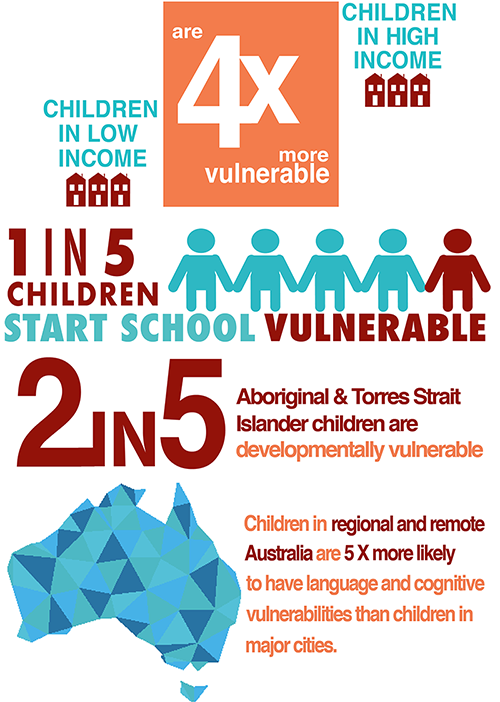 Supporting disadvantaged children
Every year, more than 60,000 Australian children, or one in five, start school with significant vulnerabilities. The risk is higher for children from regional and remote communities and low-income households.
When starting school, these children have not yet developed the foundational capabilities associated with early learning such as communication, relationship building, understanding instructions, regulating emotions, foundational literacy and math skills.
These vulnerabilities can exist for a variety of reasons, including learning and development challenges, experiences of trauma, intergenerational disadvantage or simply an inability to access quality ECEC.
Through our work, the Front Project aims to remove these obstacles. We want to ensure that all children across Australia can receive equal early learning opportunities.
Supporting Aboriginal and Torres Strait Islander children
Supporting workforce participation
Supporting a stronger future