Australia's early childhood education and care (ECEC) system has evolved over the past 130 years to produce a vibrant, diverse and complex sector.

This evolution has occurred in response to the changing needs of children and families, providing support for parents to work and critical education and nurture for children. It reflects transformation in the economy and society, and is the result of persistent advocacy from the sector and families.
The roots of Australia's ECEC system can be traced back to preschools established to educate children experiencing poverty during the depression of the 1890s. Day nurseries for single working mothers began to follow soon after.
Increased demand for early learning services – particularly from the 1950s onwards – resulted in significant growth in the sector and an increase in financial support from Commonwealth, state and territory governments.
In 1972, the Australian Child Care Act was introduced – a significant piece of legislation contributing to a nearly 40 per cent increase in the number of working women in Australia since the 1950s.
Australia has been an early leader in the move to increase quality and access to early learning, with federal government funding reforms during the 1990s helping more children from lower-income families access early learning. A National Childcare Accreditation system saw Australia become the first place in the world to have ECEC funding linked to quality.
Since then, the Universal Access National Partnership Agreement, Early Years Learning Framework, National Quality Framework and Child Care Subsidy have all contributed to seeing more Australian children having access to quality education and care.
A vibrant, diverse and complex sector
The following infographic provides an overview of the vibrant, diverse and complex Australian childcare sector, as it exists in 2021.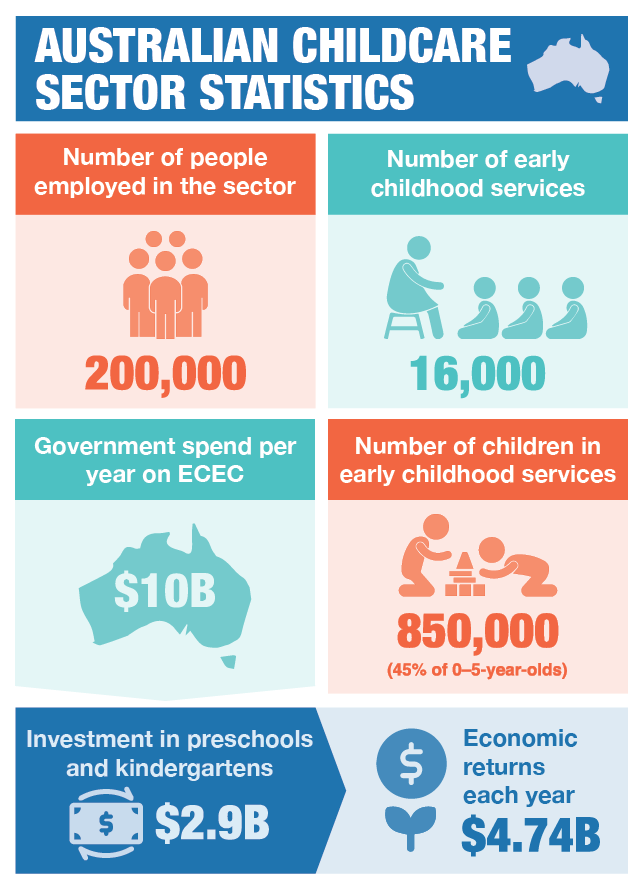 The historical legacy of the early childhood education and care sector has also resulted in significant differences in the way early learning is provided across the country. Many of the ongoing policy challenges – like the division in responsibilities and focus between states and federal governments – were established early.
Yet this history demonstrates the potentially transformative power of policy changes – many of which were the product of concerted advocacy from families and the sector and leadership from within government – and our ability to progressively improve the quality, accessibility and equity of our early learning system.
Find out more in Understanding ECEC.